2019-06-03
Patch 1.6.0 notes
1.6.0 is now LIVE and available both on Android and iOS.
Ranked Seasons and resetting Ranks, new gun M1887, Player Levels, Weapon Update for AUG, Frag Grenades, HK417, SA58 and SG 551, and other fixes and updates as usual.
RANKED SEASONS
Introducing Ranked Seasons, an advanced system for the fair Ranking experience.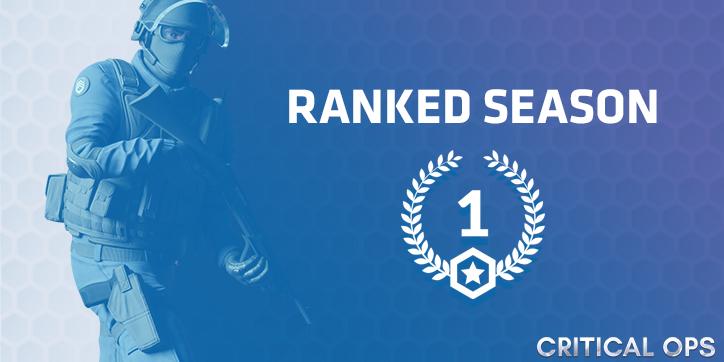 We have made improvements to our Ranked Game Mode. We made changes to the skill rating system, ranks, and matchmaking systems as well as introduced a new rank, ELITE OPS, that is reserved for Global Top 250 players. Skill rating is determined based on a player's performance in the Ranked Game Mode. The update will also add Seasons to Ranked.
Read more about Rank Season from [D]eveloper Blog.
Ranked Season 1 starts on Monday 3rd June.
A NEW GUN - M1887
A new shotgun
Available in Team Deathmatch, Defuse and Ranked
Added M1887 Missions and Milestones
Skins available from Standard and Premium Cases
Developer's Comments:
Previously the weapons we've released have had a clear slot to fill in our weapon catalog, but M1887 is an exception. M1887 is very similar to FP6, and its purpose is to offer an alternative option to the players when choosing a cheap close range weapon. M1887 has a few differences compared to FP6 such as smaller clip size, faster reload time, and of course new unique skins. That being said, we are continuing efforts to bring new weapons to C-OPS, completely new as well as alternative options such as M1887.
PLAYER LEVELS
*work in progress screenshot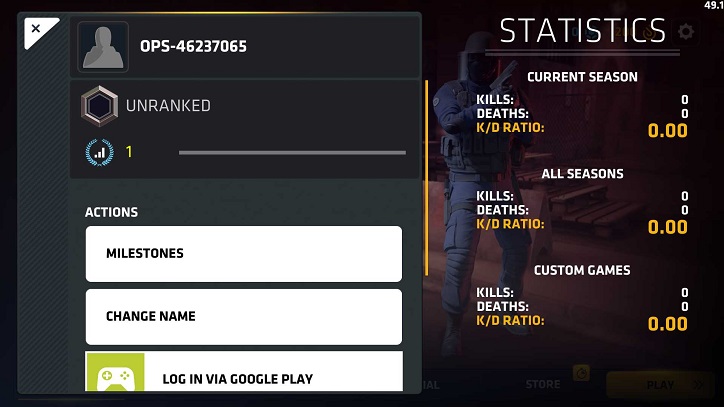 Player Levels is player progression system based on gathering Experience Points (XP). Player Levels indicate how much a player has played C-OPS. You can gain XP from Daily Missions & Weekly Challenges, Quick Matches, Ranked, and Gun Games. All gathered XP now contribute to both Critical Pass and Player Levels.
Player Levels released in the 1.6.0 is the first version of the system. More features, such as borders for the Levels, are coming in the patch 1.7.0.
Developer's Comments:
As part of our plans to improve the player progression systems, we are now bringing Player Levels to C-OPS. The Player Levels indicates how much a player has played C-OPS, as you gain Experience Points by playing, the more Experience Points you gain, the higher your Player Level will be. With this release, we are just bringing a number to indicate the Level, but we have already plans for the future to expand the Player Levels, so stay tuned.
WEAPON UPDATE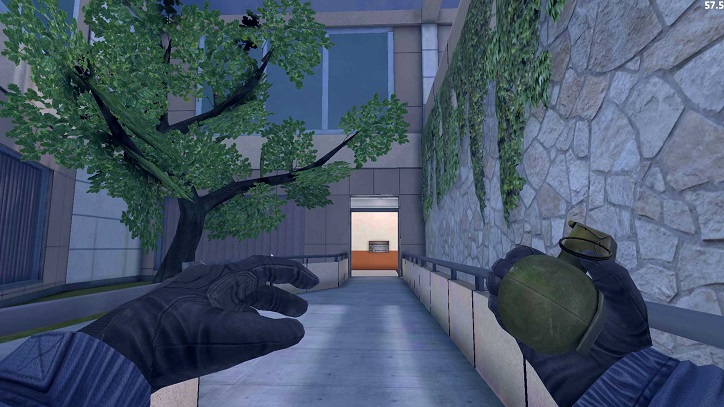 GRENADES
FRAG GRENADE
Radius decreased from 8.25 to 7 (-15.15 %)
Armor Penetration decreased from Medium to Low
ASSAULT RIFLES
AUG
Maximum Damage increased from 30 to 34 (+13.33 %)
Minimum Damage increased from 27 to 30 (+11.11 %)
Clips Size increased from 30 to 32
Recoil Factor decreased (Y from 6.5 to 6, X from 2.9 to 2.4) from 9.4 to 8.4 (-10.64 %)
Recoil Per Shot increased from 0.03 to 0.06 (+100 %)
HK417
Rate of Fire increased from 380 to 440 (+15.78 %)
Clip Size increased from 15 to 20
Extra Clips decreased from 4 to 3
Recoil per shot increased from 0.15 to 0.5 (+233 %)
SA58
Maximum Damage increased from 26 to 30 (+15.38 %)
Minimum Damage decreased from 24 to 20 (-16.67 %)
Damage Drop-off Start Range decreased from 20 to 15 (-25 %)
Damage Drop-off End Range increased from 28 to 30 (+7.14 %)
SG 551
Cost in Defuse decreased from 3800 to 3200
Recoil Factor decreased (Y from 10 to 9.5, X from X from 3.6 to 3) from 13.6 to 12.5 (-8.08 %)
Recoil Per Shot decreased from 0.02 to 0.015 (-25 %)
Developer's Comments:
What a better time to introduce Weapon changes than the start of Ranked Season 1. Let's start with commenting on the Frag Grenade. We've received a lot of feedback that the Frag Grenade is too powerful utility and that it does too much damage even to quite far away from the explosion point. So we've reduced the radius of where you still get damage. In addition to that, we reduced Frag Grenades armor penetration to give some more value to Kevlar and Helmet. Now to the other changes.
We feel that M4 and AK-47 are in a good position in Defuse when comparing to the other Assault Rifles, making the other weapons less viable and used. This is the main reason we decided to buff the other Assault Rifles, to make them more feasible and compelling.
(Minimum Range and Maximum Range are Damage Drop-off Start Range (Maximum Range, Max R) and Damage Drop-off End Range (Minimum Range, Min R). What these two points do, is that up till the Max R of the weapon you are using, it does it's Max Damage. Beyond that range the weapon's damage starts to drop-off linearly until it hits the Min R and it's Min Damage, ending the damage drop-off.)
OTHER FIXES AND UPDATES
Improved Practice Mode loading times
Anti-cheat improvements
Added Vector milestones
Added Breach and Coalition emblems available for purchase in the Loadout
FIXED occasional matchmaking issues
FIXED being occasionally stuck in "initialization" or "joining room" when loading into a room
FIXED various crashes
FIXED wrong knife audio for different knife models
FIXED duplicate URatio mission appearing