2023-03-23
1.38.0 release notes
1.38.0 is now LIVE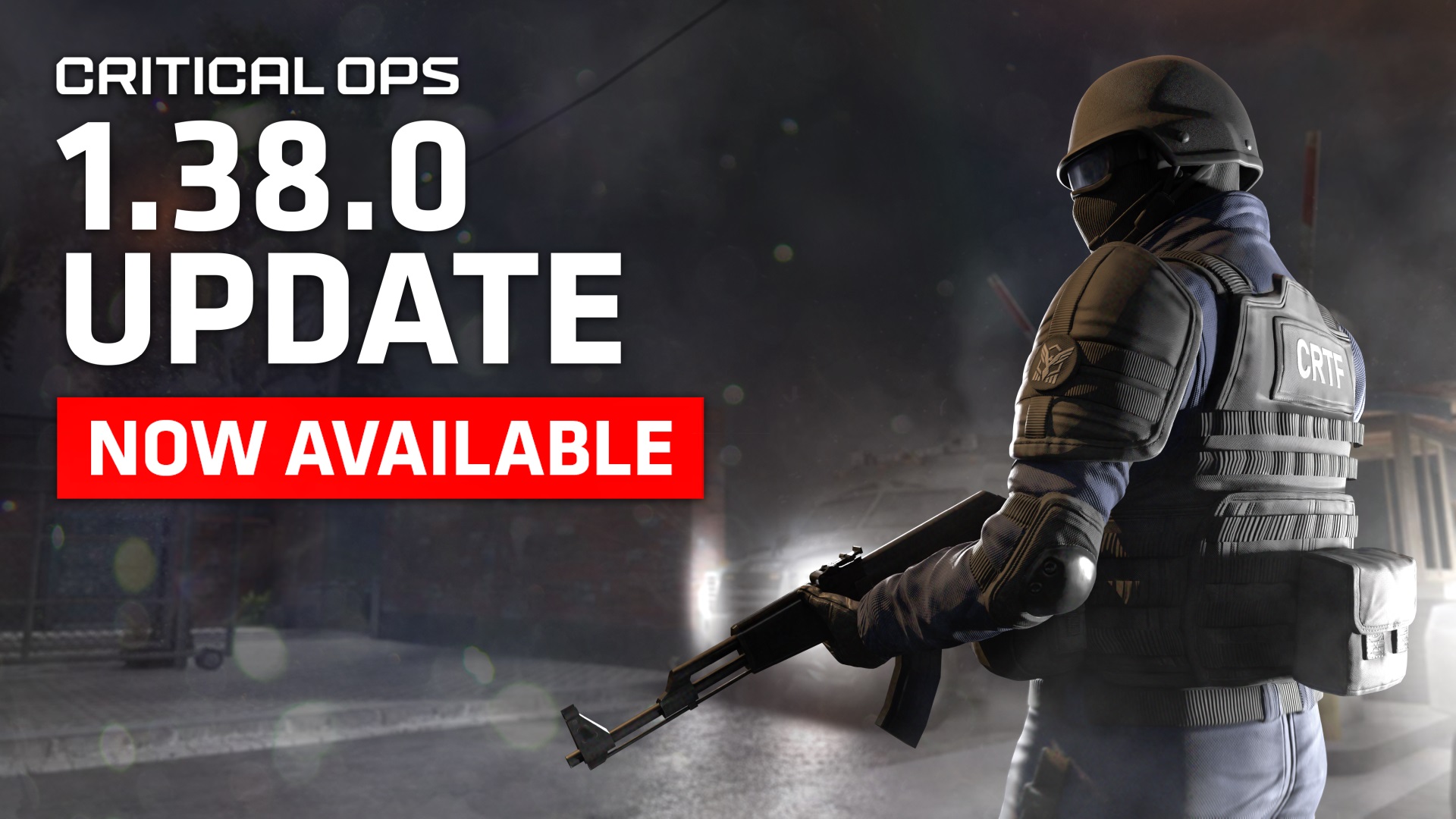 Features
New hub backgrounds
New collection cases
New content release flow
Linked social accounts preview
Search by player ID
New hub backgrounds
New loading screen backgrounds
New default HUB backgrounds
New Login screen backgrounds
New backgrounds for several other screen around the UI
New Critical Ops logo!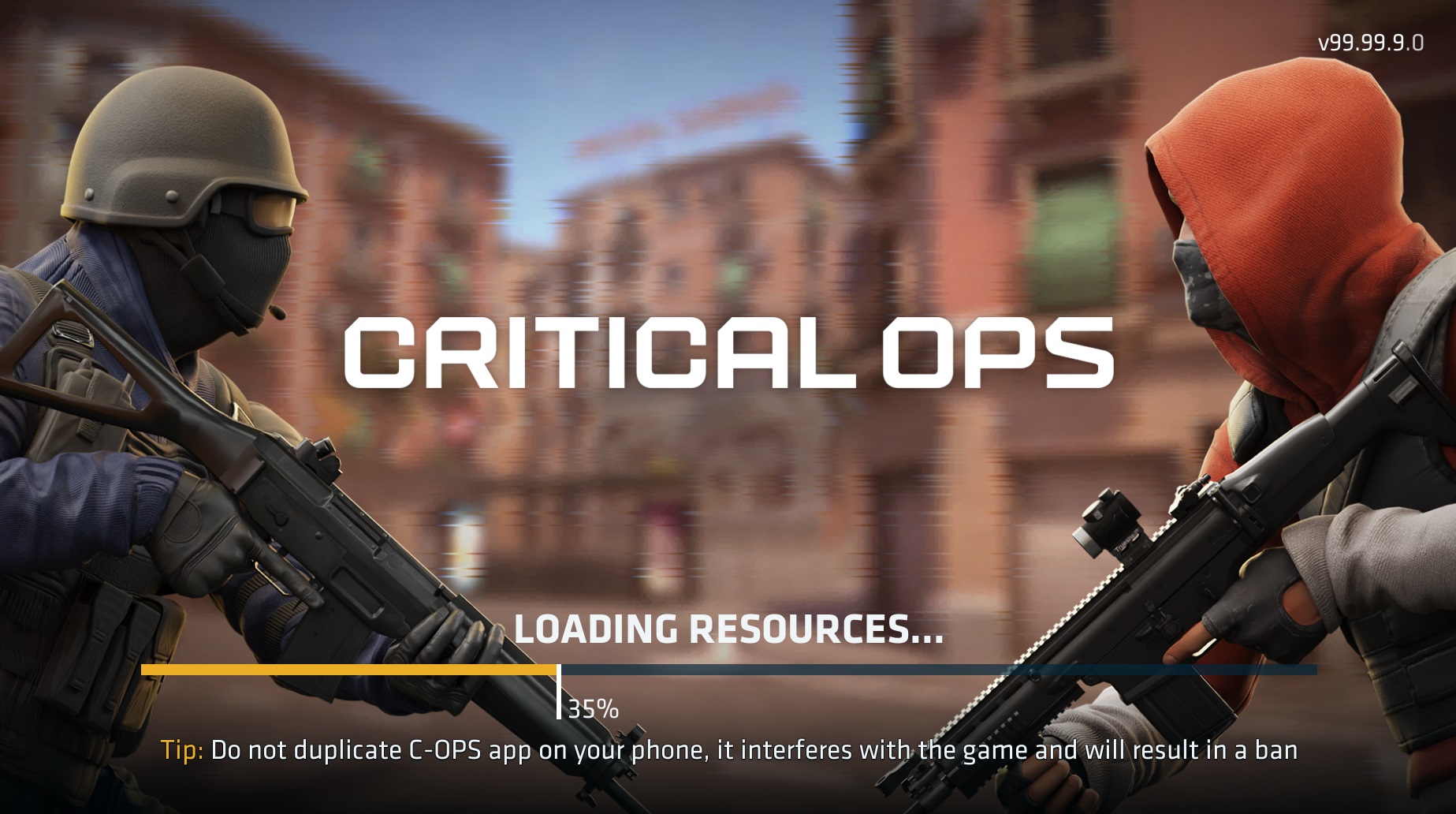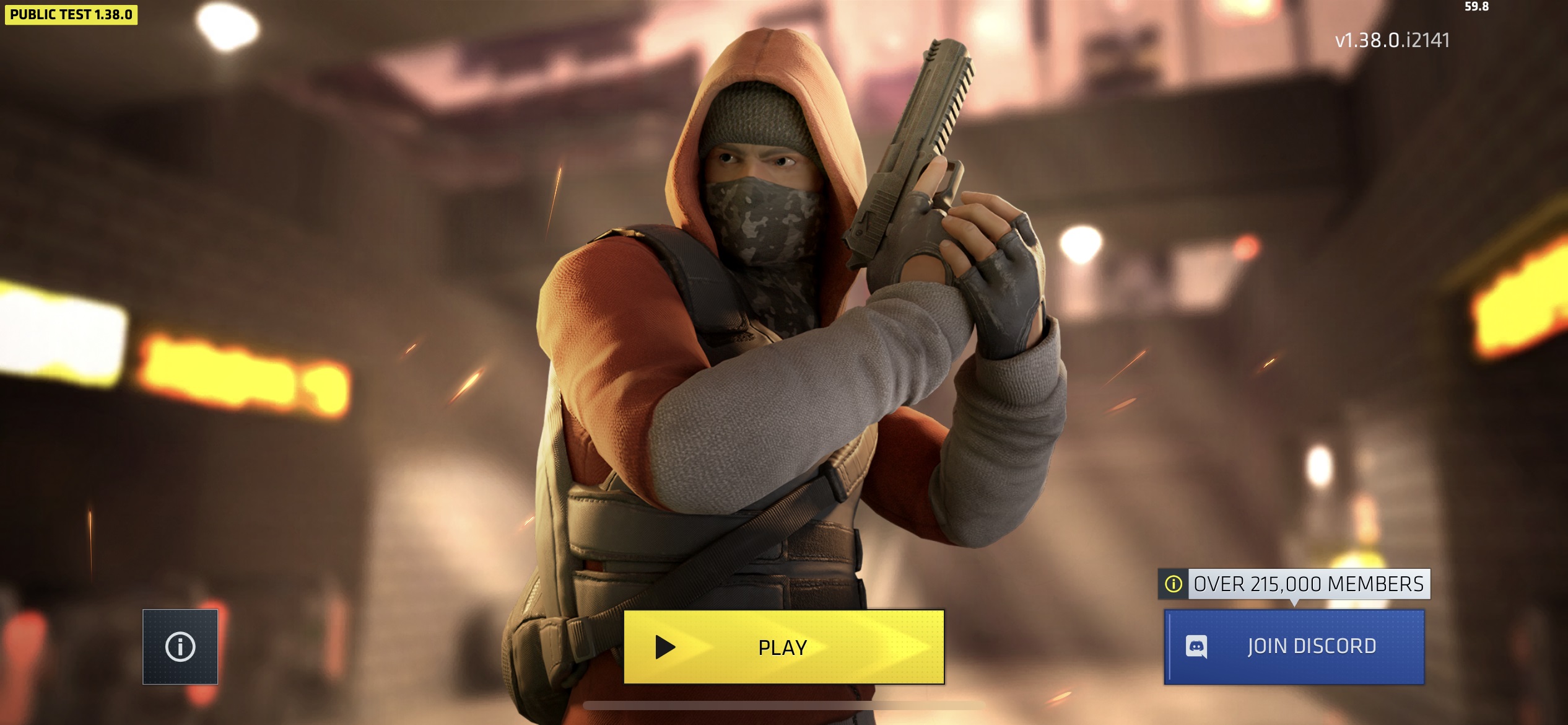 Developer Comments
We decided to refresh the look of our UI a little and return back into using high quality 2D backgrounds. This will allow us to deliver a more consistent and visually pleasing experience that is more fitting our brand image. You will see more cool backgrounds in the future!
TIER NAMING CHANGE
We have chosen to change the content tier naming to provide a more clear content experience in preparation of a few upcoming future features. Now the new rarity based naming will give a more accurate indication over how rare a certain item is instead of having a number based system that lead to mostly confusing comparing of skin value between different tiers. This should help make content value more clear.
Here are the new rarity names and their short versions:
U = Ultra (T9)
M = Mythic (T8)
L = Legendary (T7)
E = Epic (T6)
VR = Very Rare (T5)
R = Rare (T4)
UC = Uncommon (T3)
C = Common (T2)
VC = Very Common (T1)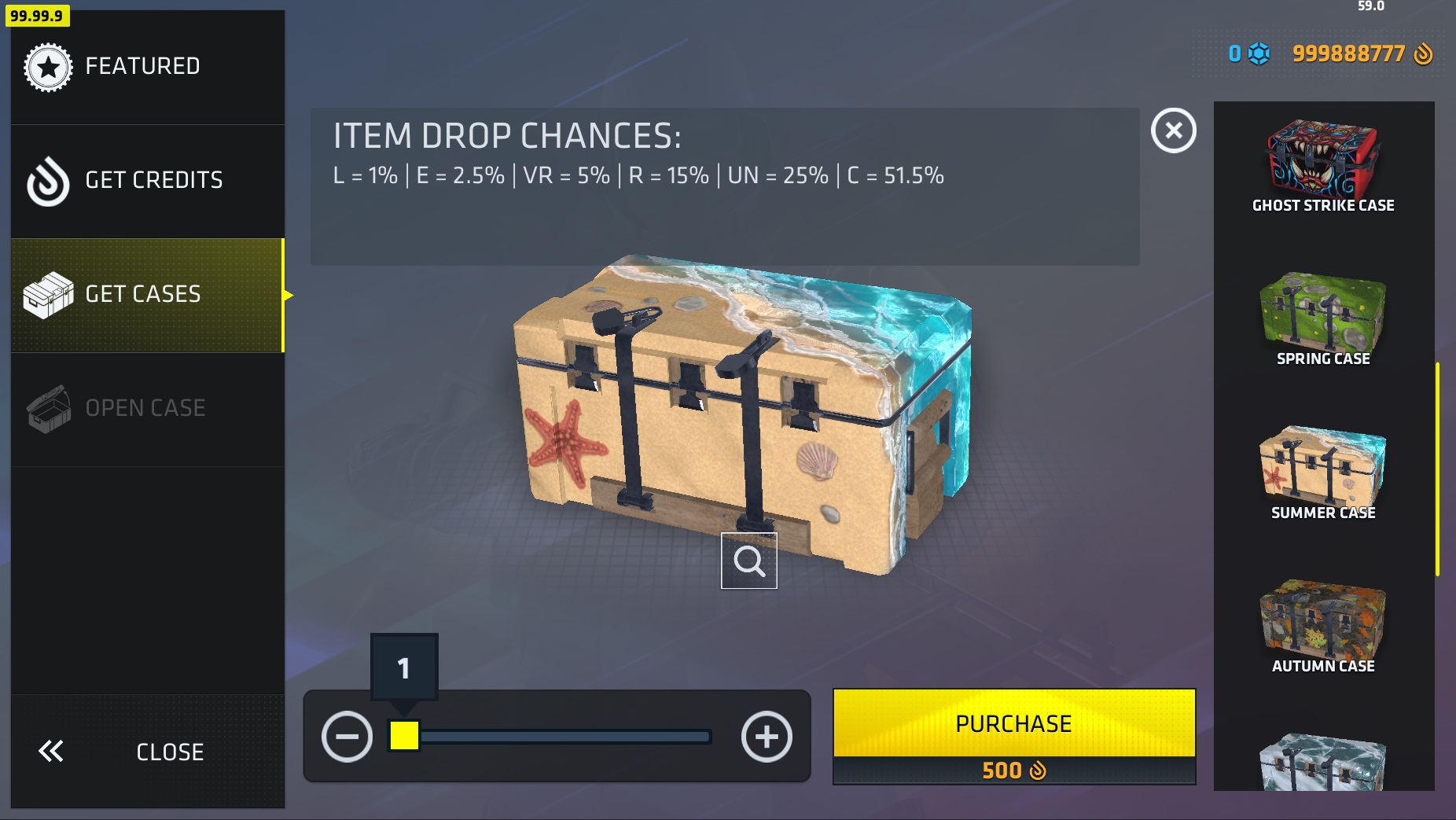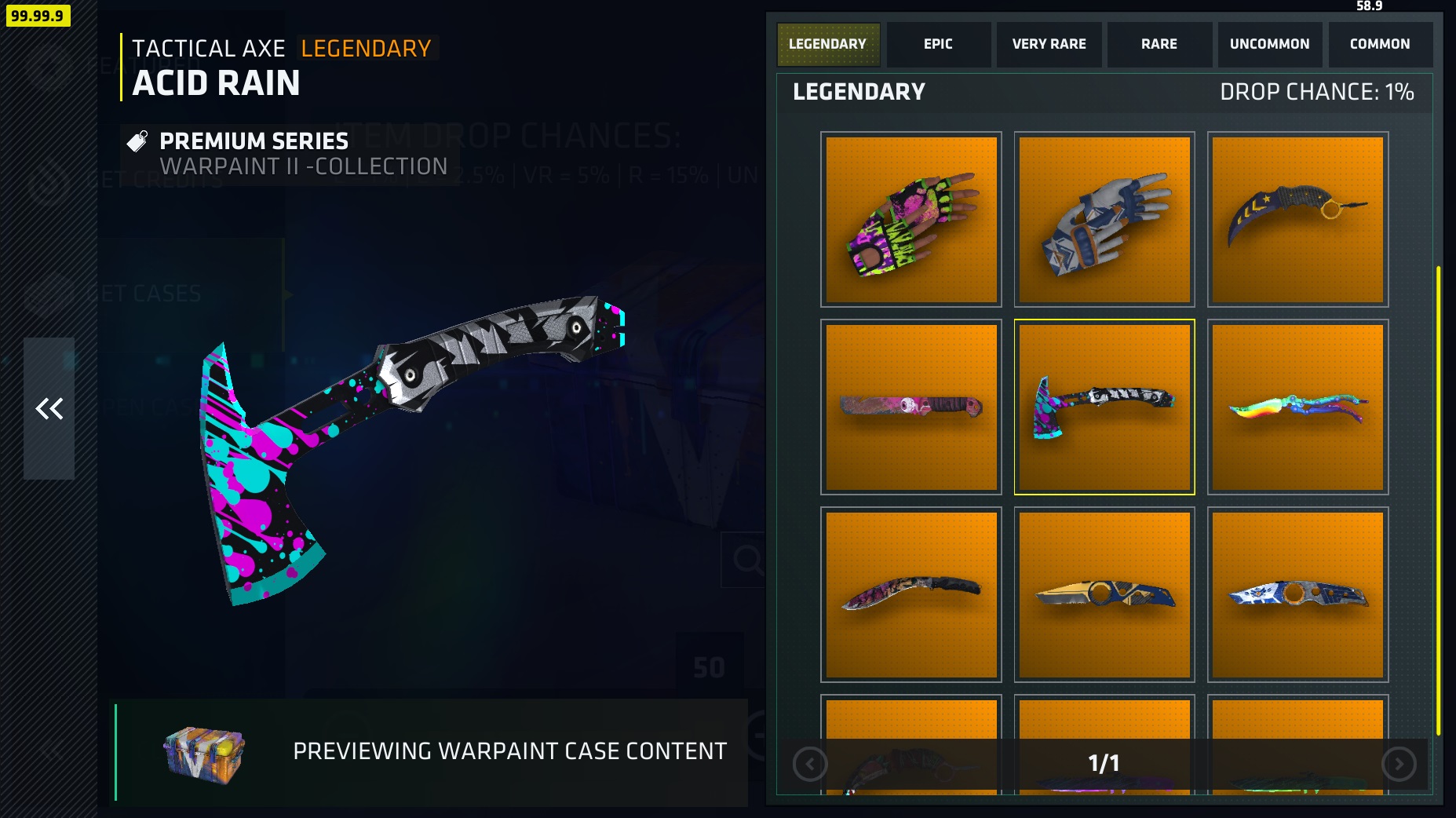 Developer Comments
Along with all the previously mentioned content changes we have also changed our content rarity names. Due to various reason the old tier number based naming did not reflect the real rarity of an item so we changed our tier naming into a rarity based naming system that better reflects the chance of getting a rare item. We have also added two new rarity levels beyond our highest old tiers in preparation for some exciting new future content we have already in the works.. but you will have to wait a bit more for their release!
NEW COLLECTION CASES
Standard case:
Price 200 credits per case!
Drop chances, L = 0.25% | E = 0.75% | VR = 2% | R = 6% | UC = 16% | C = 30% | VC = 45%
Standard case is always available in the shop
Premium & Tier cases:
Premium case is no longer sold in the shop directly
Tier cases are only available in limited ways
Shared content with standard case but with improved drop chances!
Seasonal Collection cases:
Price 500 credits per case!
Spring case, L = 1% | E = 2.5% | VR = 5% | R = 15% | UC = 25% | C = 51.5%
Summer case, L = 1% | E = 2.5% | VR = 5% | R = 15% | UC = 25% | C = 51.5%
Autumn case, L = 1% | E = 2.5% | VR = 5% | R = 15% | UC = 25% | C = 51.5%
Winter case, L = 1% | E = 2.5% | VR = 5% | R = 15% | UC = 25% | C = 51.5%
Rotating in shop each season, about every 3 months
Theme Collection cases:
Price 500 credits per case! New drop chances!
Arcade case, L = 1.25% | E = 2.75% | VR = 9.75% | R = 36.5% | UC = 50%
Black Metal case, L = 1.25% | E = 2.75% | VR = 9.75% | R = 36.5% | UC = 50%
Power of Justice case, L = 1.25% | E = 2.75% | VR = 9.75% | R = 36.5% | UC = 50%
Ethereal case, L = 1.25% | E = 2.75% | VR = 9.75% | R = 36.5% | UC = 50%
Ghost Strike case, L = 1.25% | E = 2.75% | VR = 9.75% | R = 36.5% | UC = 50%
Warpaint case, L = 1% | E = 2.5% | VR = 5% | R = 15% | UC = 25% | C = 51.5%
Taurus case, L = 1% | E = 2.5% | VR = 5% | R = 15% | UC = 25% | C = 51.5%
Fantasy case, L = 1% | E = 2.5% | VR = 5% | R = 15% | UC = 25% | C = 51.5%
Nights of Horror case, L = 1% | E = 2.5% | VR = 5% | R = 15% | UC = 25% | C = 51.5%
Rotating on sale from time to time at random intervals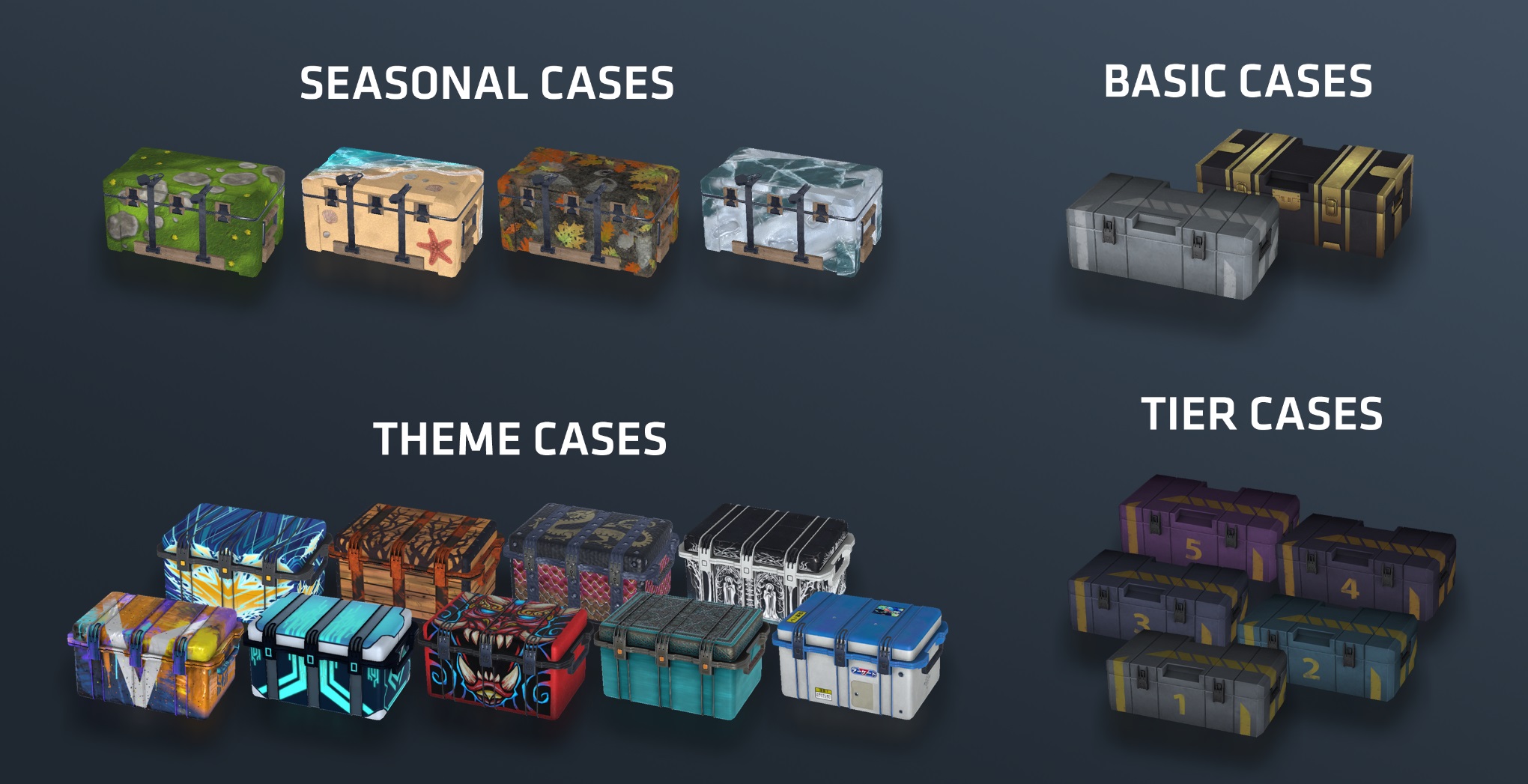 Developer Comments
We have reorganized how case content works and made some changes to case availability. In the future the following new collection cases are going to be sold according to our new content flow that streamlines also how content is released.
We hope that these new cases will provide a more enjoyable and rewarding case opening experience. We will be releasing a lot more cases in the future!
NEW CONTENT RELEASE FLOW
New Lucky Spin Content:
Lucky Spin releases, Available for around 3 weeks!
Lucky Spin ends, content gets added into one of the new collection cases, excluding emblems!
New Theme Cases:
We will continue releasing new theme cases in future releases
Each new case contains 20 items at release!
Drop chances of all theme cases have been improved!
New cases will not offer blue token crafting of items!
Cases are no longer 1000 credits, New price is 500 credits!
Example:
New Lucky Spin with a Primal theme is released
Once this Primal themed Lucky Spin ends, we will add this content inside the Fantasy themed case
This Fantasy themed case will then rotate into the case shop at some point in the future
In short new spin content will grow various cases continuously on a monthly basis
Even if you would miss out on a Lucky Spin, its content will still be available inside a case later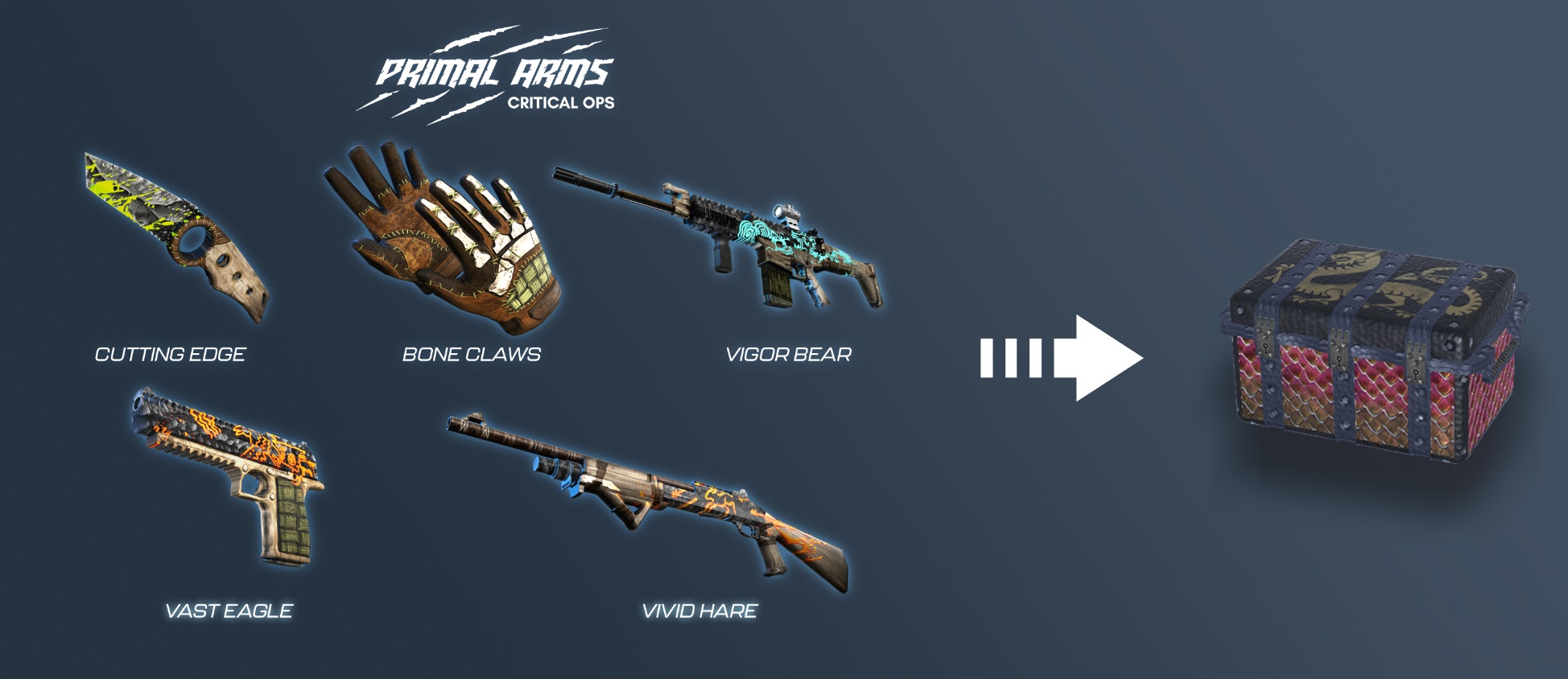 Developer Comments
With this new content flow we hope to bring more clarity in content availability. This means that now as many already know Lucky Spin works as an initial release of new content. We will no longer return back any old lucky spins because that content will now more into a case after the spin sale ends.
This means that with a Lucky Spin you are guarantee to be able to buy all the items. Once that Lucky Spin content is added inside a case it becomes part of how case content works.
This means that there is no more direct guarantees to craft a skin that is available inside a case. We hope that this change makes it clear that if you want to make sure you will get those new skin when they release Lucky Spin is your best bet to get them guaranteed.. otherwise you will have to try out your luck with random drop changes each cases provide.
We will also be bringing back events and limited item crafting in the near future but we will talk more about those changes later. Right now we are only introducing this new Lucky Spin content flow.
ITEM VIEWMODEL ROTATION FIXES
Multiple weapons have had their viewmodel rotations fixed for UI previews
This means some ingame gun viewmodels might have been impacted a little
Viewmodels are now working as expected in the UI and in-game
Some future changes to view models might follow at a later date

Developer Comments
We fixes a long standing issue with viewmodel rotations in our UI previews that was causing many viewmodels to behave and scale wrongly. We have now fixed these core rotation issue.
LINKED SOCIALS WILL REMAIN VISIBLE
Buttons for linked platforms will no longer be hidden, but shown in non-interactable state.
You will always be able to see the button of the platform you linked to, regardless if you are using Android or iOS
Example: you have linked all platforms, you are on Android, you will see all buttons for individual platforms (including iOS' Game Center and Apple), but they cannot be interacted with
If there is no link to a platform of the other operating system, then the button will not show
Example: new account on Android will not see iOS' Game Center/Apple log in buttons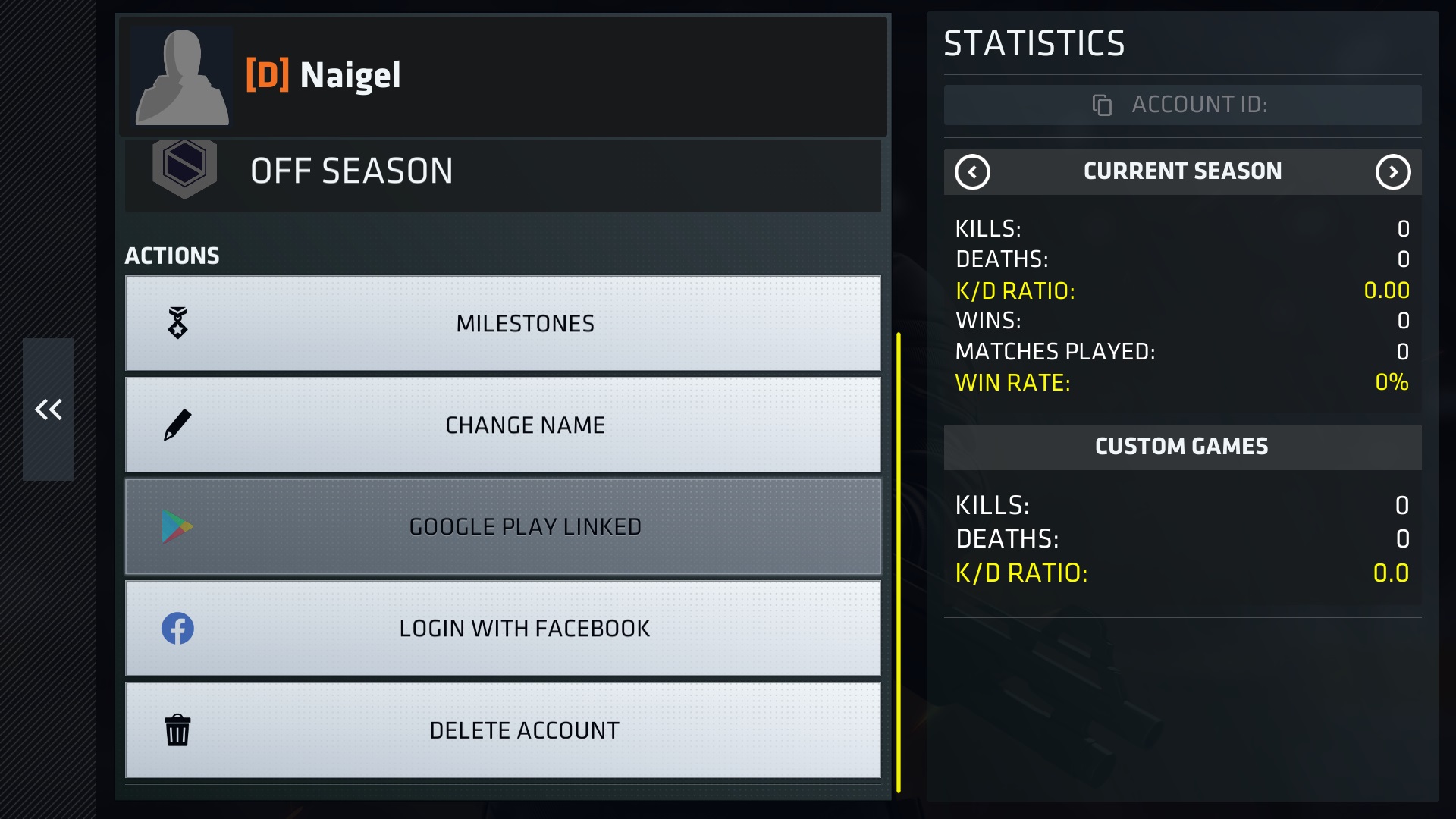 Developer Comments
Before this change the buttons for any eligible platform to link with, would be hidden. This can create confusion in situations where you may not exactly remember if you had linked to (for example) Facebook before. That is now a thing of the past and instead the buttons will still be completely visible, although you won't be able to interact with it. This is a quality of life improvement that will help clear confusion whether or not a link already exists.
SEARCH BY PLAYER ID
Searching for player profiles now supports searching by ID.
To search for a player profile by ID, put "id=" followed by the player ID, like so: "id=1234"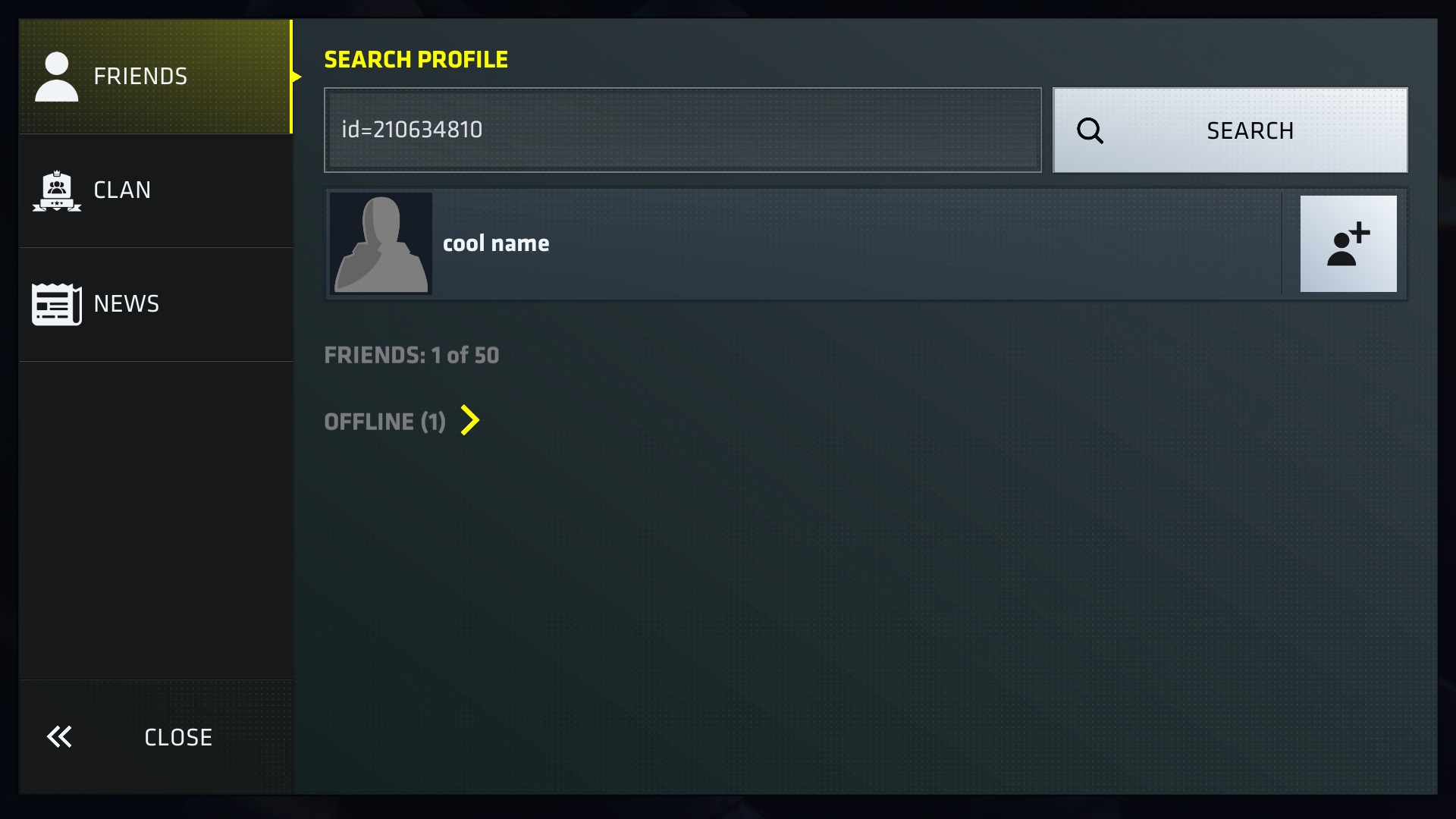 Developer Comments
Searching for other players will now even be easier, especially when they have an "exotic" in-game name with different characters. Simply use the prefix and to enable searching by their ID and you'll be able to locate them in no time. If you want to easily share your ID to others, then you can use the copy button in your profile, next to "ACCOUNT ID".
MAP UPDATES
All maps
Updated all map to properly support pre planted/dropped bombs (specifically for Rush game mode)
Updated a few textures and assets used in various maps
Fixed green crate having wrong (metal) sound to be played, instead of the correct (plastic) one
Updated collider on a particular vehicle used in various maps
Brewery
Updated the fire stairs asset
Canals
Fixed several small gaps in buildings
Castello
Added more colliders to prevent bomb stuck spots
Grounded
Replaced white lights with red lights to match surrounding lighting
Impasse
Added colliders to smoothen out player movement
Legacy
Smoothened collision of stairs at Coalition spawn
Changed material type of some floors
Plaza
Removed a few invisible colliders
Raid
Added ambient audio to the vehicles in Coalition spawn
Shanty
Added more colliders to prevent bomb stuck spots
Tutorial
Updated the fire stairs asset
BUG FIXES
Fixed mute music button not remembering its state
Fixed players sometimes being visible through a wall if inside a smoke grenade
Fixed animations in Operation Pass freezing or crashing the game when purchased
Fixed a crash when starting a custom Practice game with the maximum number of bots
Fixed a crash when changing custom game filters
Fixed a crash that could happen when a character respawns
Fixed unresponsive input when closing overlay menus in gameplay