2021-02-15
1.23.0 patch notes
1.23.0 is now LIVE both on Android and iOS.
NEW KILL MEDALS
We've expanded on our pool of Kill Medals with 4 new entries to provide more feedback for each kill scored and acknowledge creative kills.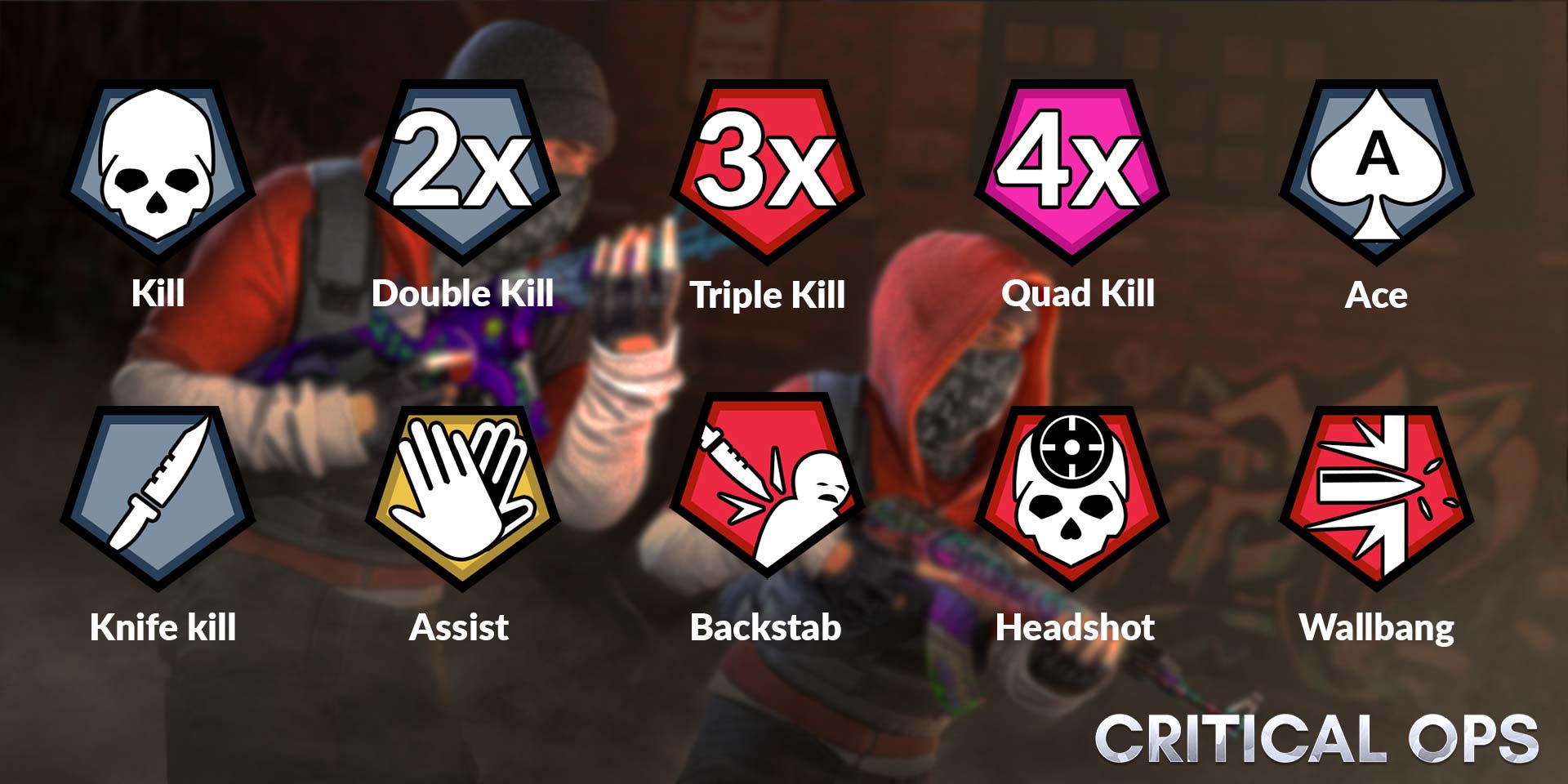 "Kill Medal" is received for each kill unless any other condition is met
"Knife Kill Medal" is awarded when player makes a kill with Knife,
"Backstab Medal" is awarded when player is able to kill another player from behind with a knife
"Wall Bang Medal" will be awarded to players who are able to kill another player by shooting them through any penetrable surface
Developer's comments:
It felt like the Critical Ops ignores kills of a slightly more "ingenious" variety.
This update addresses this problem and adds four new entries to the roster of shinies you can earn in combat.
Now, our assortment of conditions ranges from a scoring a simple kill, to surprising that pesky sniper with a stab in the back, to taking out your opponent with a clean shot through the glass panels on Division.
The kill medal is pinned on your chest should you score a regular kill. Keep up the excellent work!
Cold-blooded players will have the option to earn Knife Kill and Backstab medals to recognize their skill with the blade.
Sharpshooters will find the Wall Bang medal to their liking, awarded when the enemy is blasted to kingdom come through a wall.
Ranked Season 4 Rewards
Each Rank contains a reward for you to unlock.
How does it work?
Reach the required Rank.
Achieve the required victories
Collect your reward.
Worth noting:
You need to complete each requirement to collect your reward.
Collecting the reward opens the next tier.
You can preview all the rewards by tapping the Info Button (i)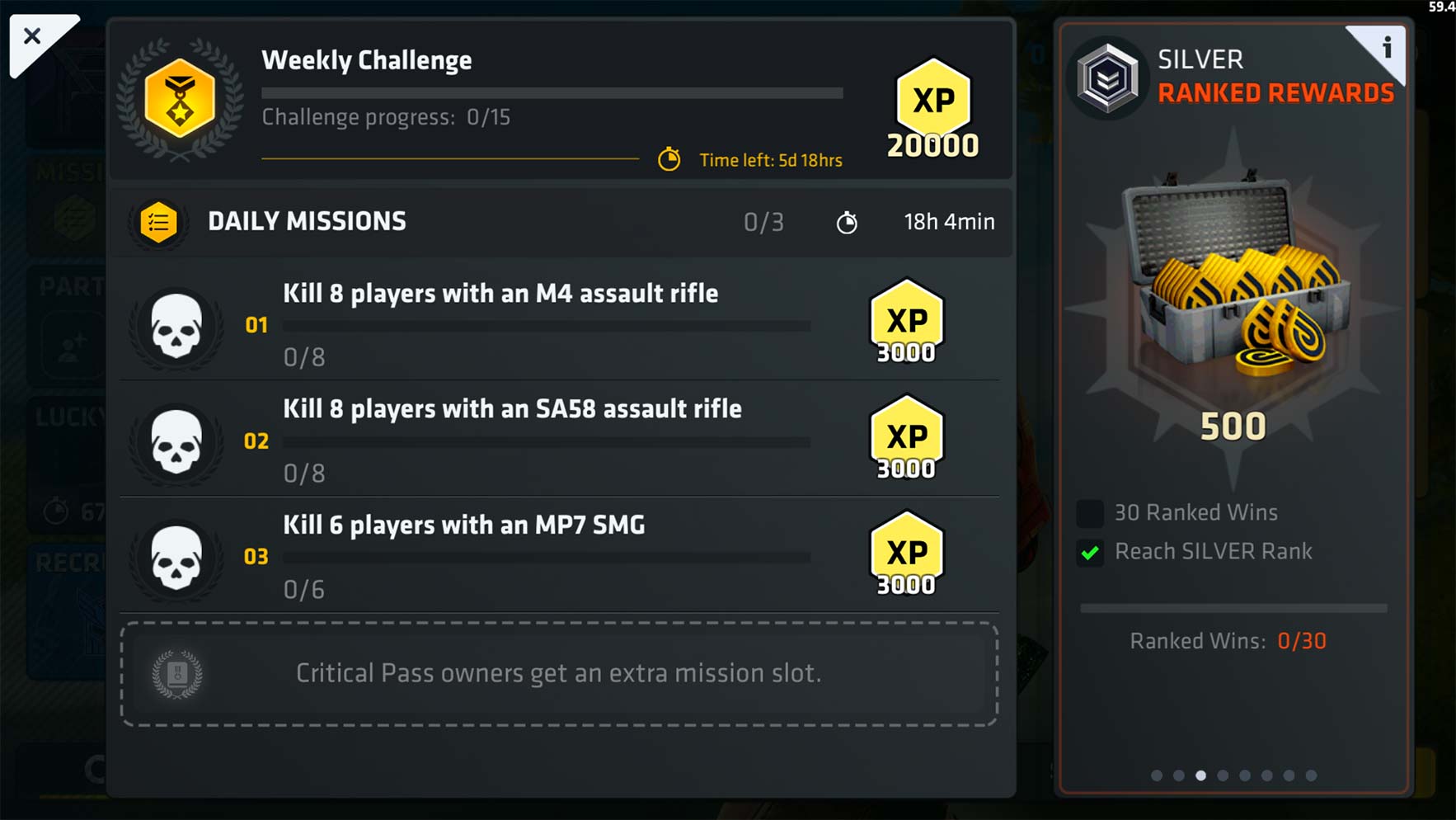 Rewards
| RANK | Total Wins Required | Reward |
| --- | --- | --- |
| Iron | 10 Wins | 350 Credits |
| Bronze | 20 Wins | 400 Credits |
| Silver | 30 Wins | 500 Credits |
| Gold | 40 Wins | 2 Premium Cases |
| Platinum | 50 Wins | 2 T5 Case |
| Diamond | 60 Wins | 2 Rewind 2021 Event Cases |
| Master | 70 Wins | AK-47 Season 4 Mastery |
| Spec OPS | 80 Wins | AK-47 Season 4 Supremacy |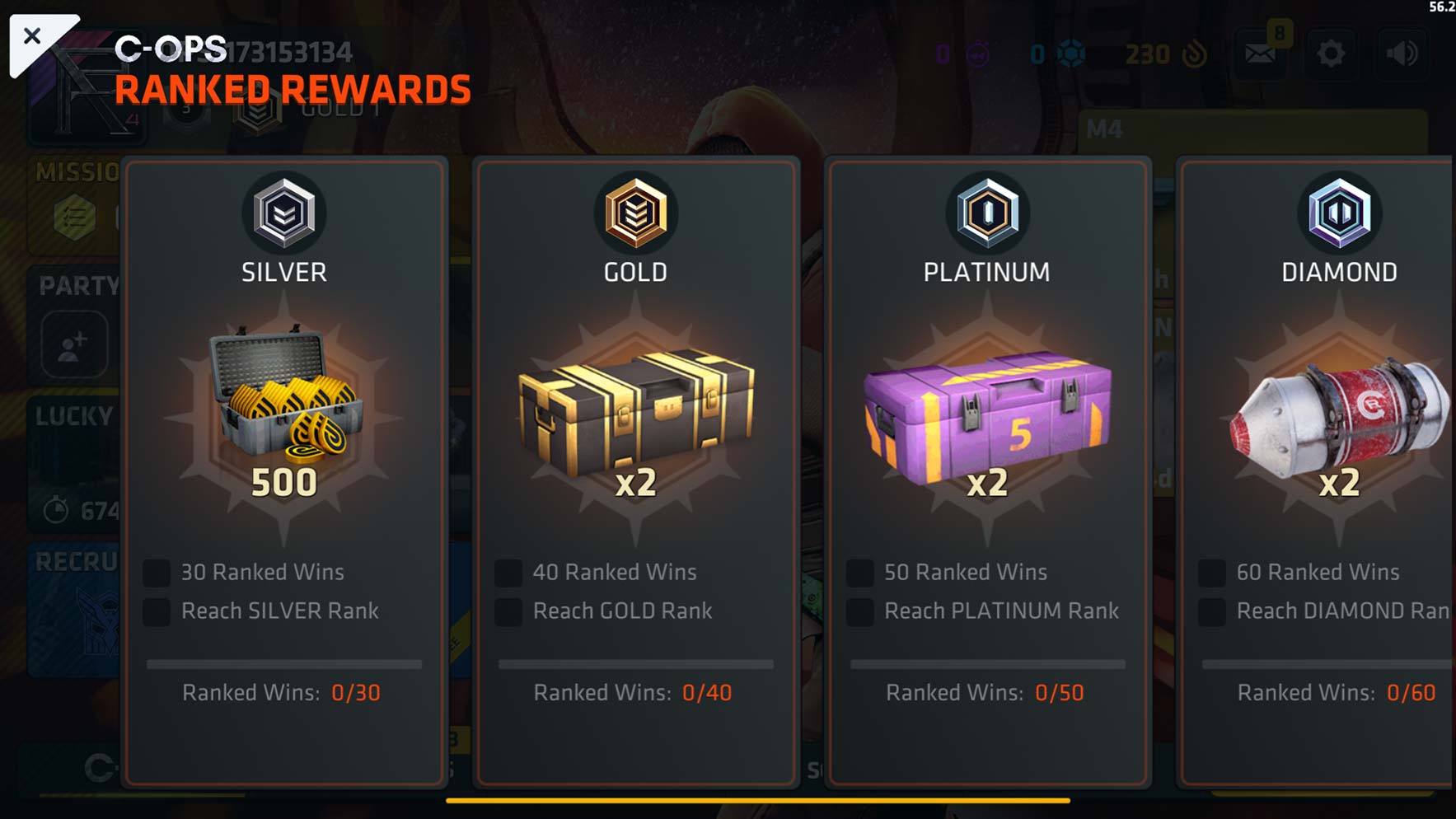 Developer's comments:
Players participating in ranked matches take the game to the next level: strategy, skill, and teamwork — A place where every millisecond counts.
It requires dedication. One of the main reasons you can unlock and collect rewards immediately after completing the requirements. There's no additional waiting time.
This has been a highly requested feature. It's something we wanted to do for a long time.
We wanted to acknowledge those players moving through the ranks.
It's our way of saying: We see you, keep doing what you do.
Play. Compete. Unlock.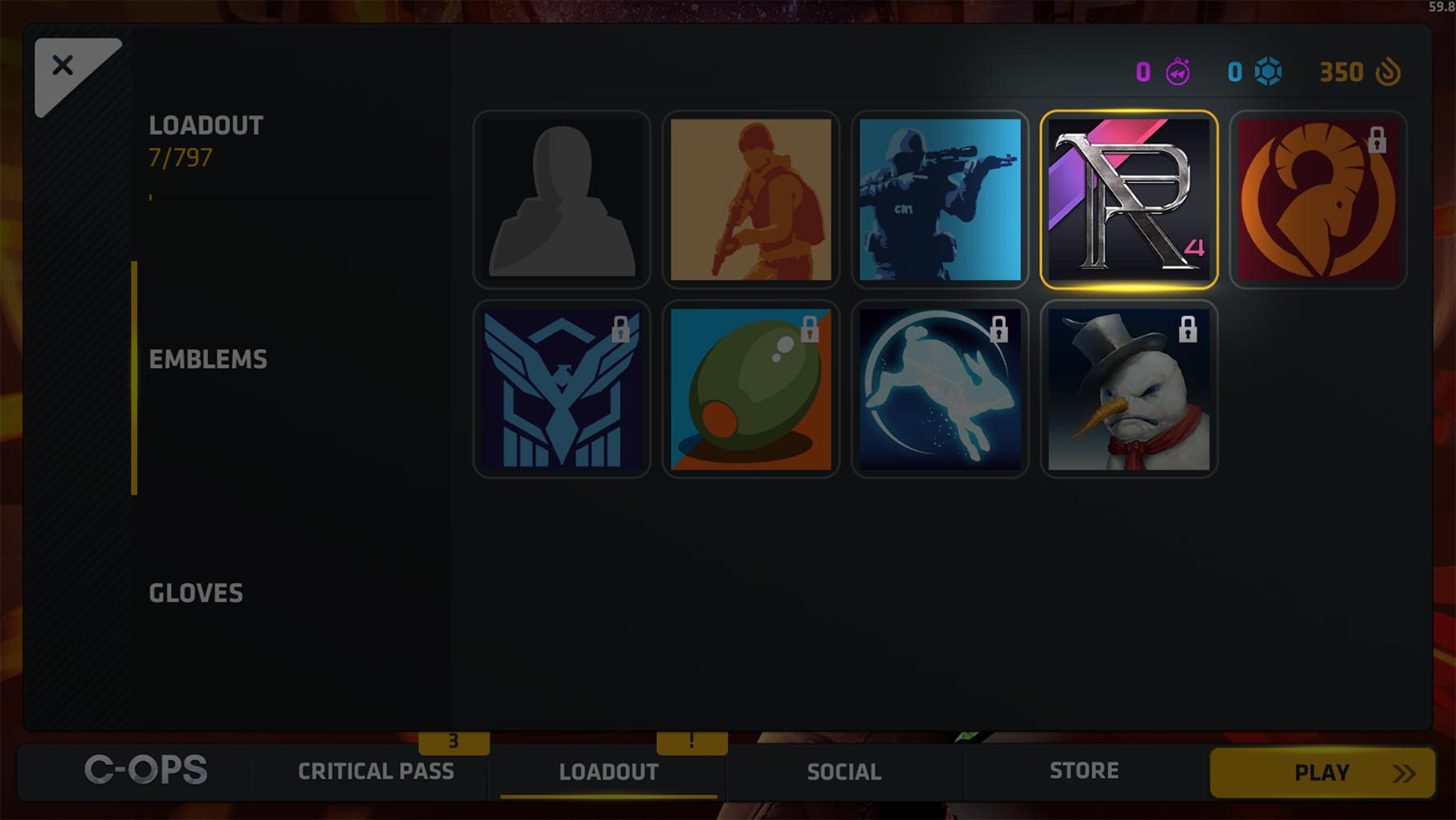 Make sure you claim the FREE Ranked Season 4 emblem.
Available for all players in the loadout during the Season 4.
New Free For All based Gun Game -mode
1.23 contains the release of a new Gun Game -mode based on the free for all format.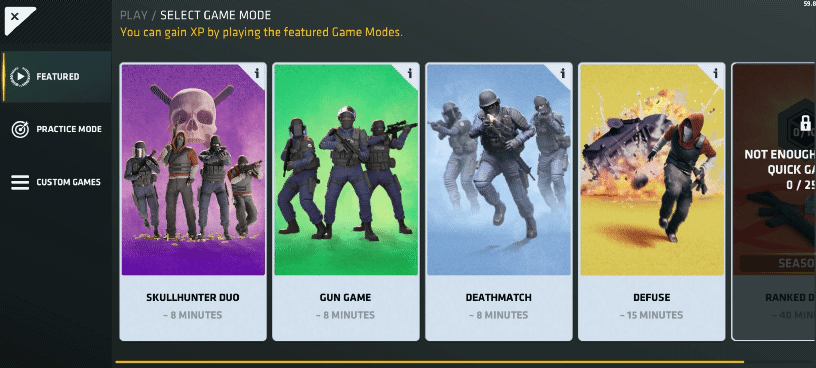 Developer's comments:
For 1.23 we wanted to bring back Gun Game with a twist.
The mode now allows 15 players to test their skills in an all out 25 level battle of skill and mastery.
Master all of the guns in the game one by one and end your fight with a knife kill to seal your victory.
Gun Game now features all the weapons and it is based on the solo Free-For-All format we introduced with "Skullhunter"-mode during Taurus Project event.
This means that everyone will be your enemy.
Because of the increased amount of players allowed in a match in this game-mode we have also made Gun Game to be played in the bigger Defuse maps.
Character Movement improvements
Fixed walking through walls and reduced peeking advantage caused by jumping out of the corner.
Developer's comments:
We made changes to address character movement glitches and improve overall latency of player movement.
There were two major issues with the old system:
First issue allowed players to get unfair advantage by jumping out of the corner and shooting at an opponent.
The opponent would see the shooter with a small delay (tens of milliseconds) which gave the shooter some unfair advantage.
This issue was caused by bugs on the server which were fixed in this update.
Second issue was related to "walking through walls" exploit, which allowed players to abuse disconnect/reconnect mechanism to have their character appear to be walking through walls.
In reality nobody was actually walking through walls, it just looked like character moved through a wall because server did not reset character position when somebody disconnected and reconnected to the game after walking behind that wall in disconnected state.
As of this update, both issues are fixed and should not appear again.
Various other fixes and improvements
We have also worked on several improvements and bug fixes all across the board.
Including but not limited to:
Skins
Maps
Gameplay bugs
Menu UI
localization
and more…