2018-10-08
Patch 0.9.12 notes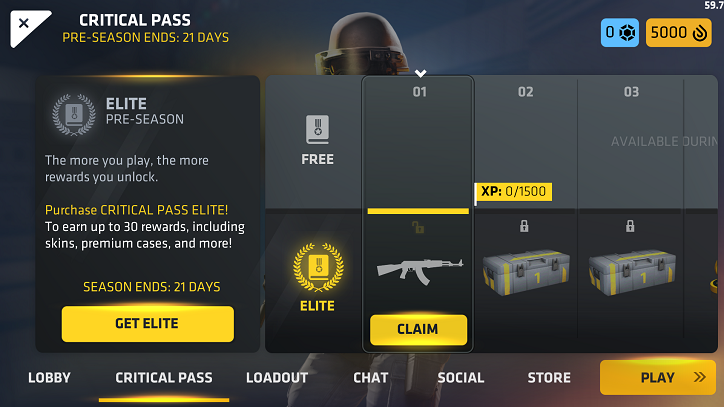 *picture was taken during alpha testing
CRITICAL PASS
Critical Pass is C-OPS's own seasonal Battle Pass system. It is leveled up by gathering experience points. You can see gained progress in the Critical Pass menu. Pre-Season starts 15th October.
RANKED LOGIN GATE
As part of anti-cheat measures, from now on you are required to have linked your account before playing ranked.
WEAPON BALANCE UPDATES
GENERAL
**
**
Kevlar & Helmet give more protection against aim punch
PISTOLS
**
**
GSR1911
Accuracy while moving and jumping decreased
Price increased from $ 500 to $ 600
MR96
Accuracy while moving and jumping decreased
XD .45
Price decreased from $ 600 to $ 500
Dual MTX
Minimum and maximum damage decreased
SHOTGUNS**
**
**
**
All Shotguns (FP6, Super90)
SNIPERS
All Snipers (TRG 22, URatio and M14)
Accuracy while moving and jumping decreased
Developer comment:
Aim punch vs. Kevlar & Helmet
Kevlar & Helmet now give an increased protection against aim punch. Aim punch has been something that the community has asked us to improve and a lot of good ideas and suggestions regarding the aim punch have been received from the community. While we can't act on all of the feedback, the changes introduced now should give a solid way to counter the aim punch.
Pistol & Sniper, Running & Gunning
As a continuation of the movement and jumping accuracy changes we introduced in patch 0.9.9, the accuracy of all of the Snipers, GSR1911 and MR96 are being decreased when moving and jumping. This is because we believe that for weapons, which power comes through their accuracy, aiming should be part of the effective and skilled usage of those weapons.
XD .45, GSR1911 price swap and Dual MTX damage decrease
GSR1911 has been really powerful due to its price and players being able to buy grenades with it. XD .45 in the other hand has been less popular due it being a close range pistol and due to its similarity to the more powerful Dual MTX (Both being fast close range pistols). Swapping the GSR and XD prices, allows the players to utilize grenades with XD instead of GSR, making the XD more powerful weapon to use. In addition to the price change, to further enforce the XD and to enforce the weapon characteristics, Dual MTX damage is slightly decreased to make it more of a "cool weapon". MTX is still slightly more powerful than XD but due to its price, XD should now be a more attractive option.
Shotguns
The weapon data we've gathered and the general player feedback shows that the shotguns, especially Super90, are too powerful even at long range. Shotguns are meant to be extremely powerful at close range while next to useless at longer range. The decrease of overall range of both shotguns is done to support these characteristics.
TUTORIAL IMPROVEMENTS
Developer comment:
The beginner experience is very important to us and to improve it we added an obligatory tutorial match in the tutorial. This is a short Team Deathmatch match against bots and the player will have their weapons preset to the M4 assault rifle, P250 pistol, and Knife. Tutorial Match is not (yet) meant to be a game mode, but rather an additional part of the tutorial. Currently, you can only access it with a fresh install of C-OPS, so you cannot replay as you can the tutorial.
And yes, this means we will be adding Practice Mode in the near future.
OTHER FIXES AND UPDATES
CPU performance Regression fixes
Memory optimization
New client improvements
Improvements of server security measures