2019-12-11
Snowy Critical Pass Season 10
The more you play, the more rewards you unlock!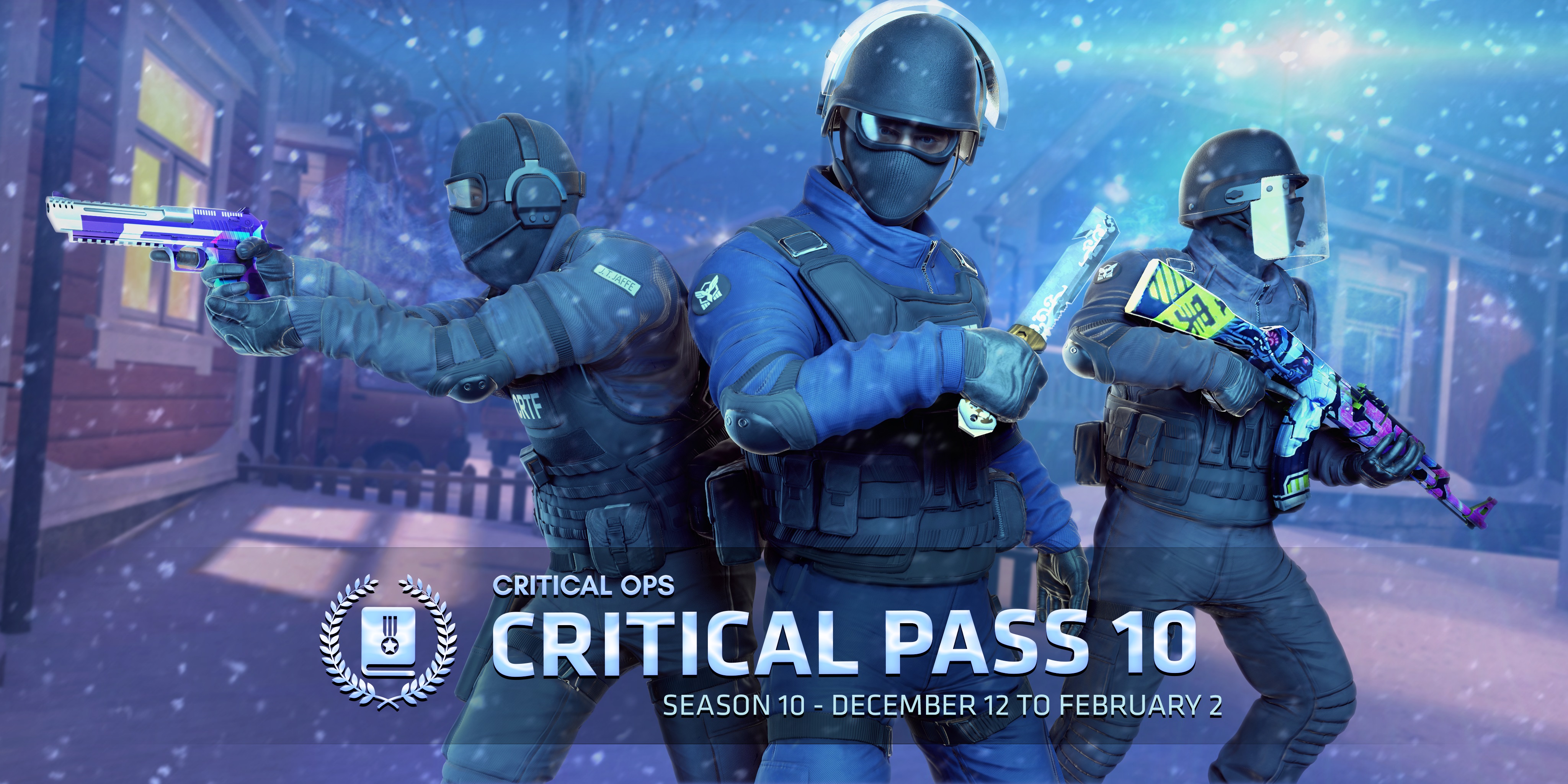 It is time for the long waited longer Critical Pass!
As well, we have included a free Winterfest present for you to the first Free tier!
Critical Pass Season 10 has started and it will last until 27th of January 2020 (6 weeks).
Critical Pass Season 10 introduces 55 tiers, including multiple skins such as Tac Tool - Bandit and AK-47 - Naka!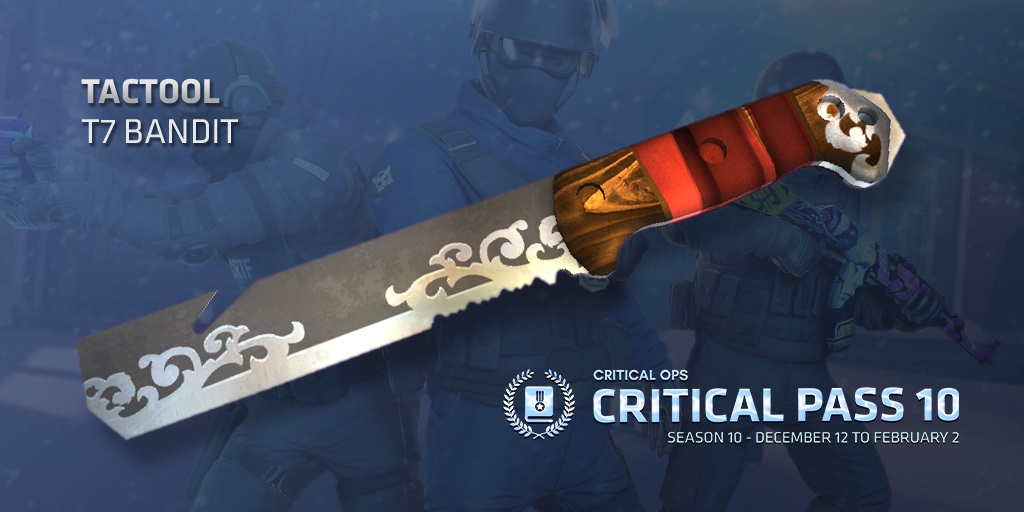 ELITE TIER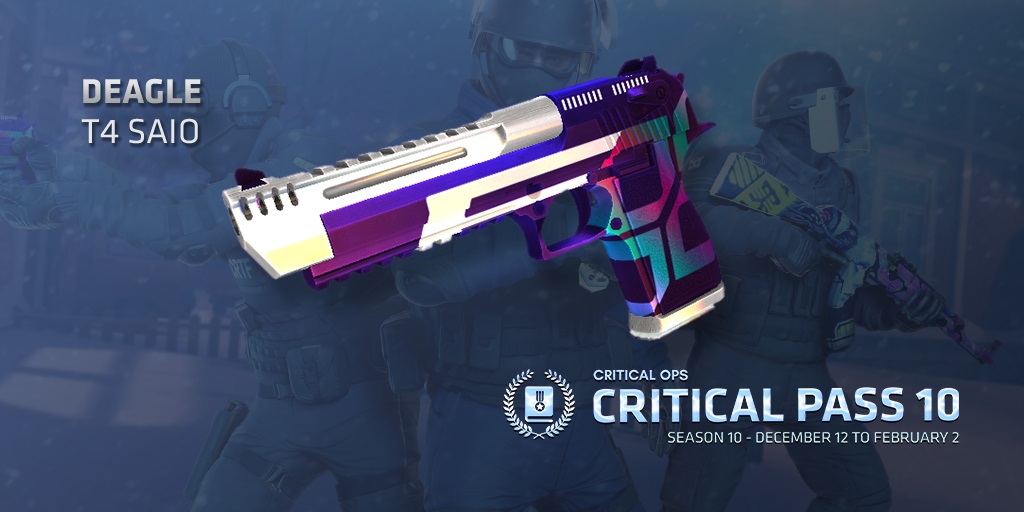 SA58 - Floreo
Nara - Emblem
GSR1911 - Inverse
FP6 - Red Widow
Demi God - Emblem
P250 - Siamese
Birdy - Emblem
Atakada - Emblem
Vector - Palaver
Diablotor - Emblem
MR96 - Elemental
Mungmung - Emblem
Glatax - Emblem
Aug - Saio
Credits 50
Super90 - Floreo
Flaragon - Emblem
Credits 50
P250 - Firestorm
Gargandos - Emblem
M14 - Hyper
Glaguera - Emblem
Credits 50
P90 - Firestorm
Pinkhead - Emblem
MP5 - Hyper
Credits 50
Snowy Owl - Emblem
SA58 - Firestorm
T3 Case
TRG - Polka
Standard Case
Credits 50
URatio - Palaver
Iroros - Emblem
SG551 - Rose
T4 Case
Credits 50
M4 - Naka
T5 Case
Deagle - Hyper
Spilus - Emblem
Standard Case
AK47 - Naka
Premium Case
Credits 50
Stentax - Emblem
Premium Case
T7 - TacTool
Standard Case
Credits 100
Premium Case
Credits 100
Premium Case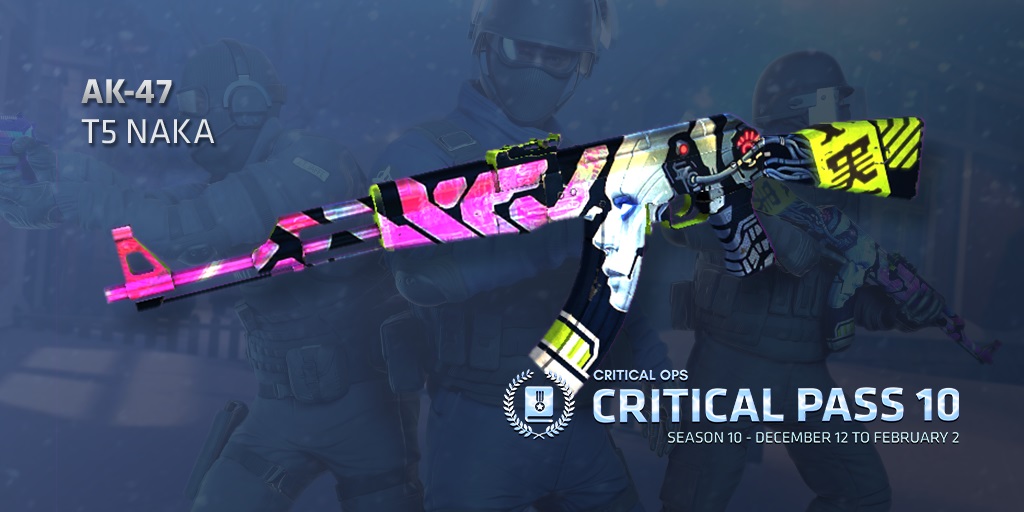 FREE TIER
Winterfest2019 Case
XD45 - Floreo
AK47 - Siamese
TRG - Siamese
Coon - Emblem
FP6 - Frost Bound
Credits 50
Yeomla - Emblem
Dual MTX - Rose
Credits 50
AUG - Inverse
Carnilon - Emblem
URatio - Elemental